News from Maison de la Gare
Runaway Talibés
Tweeter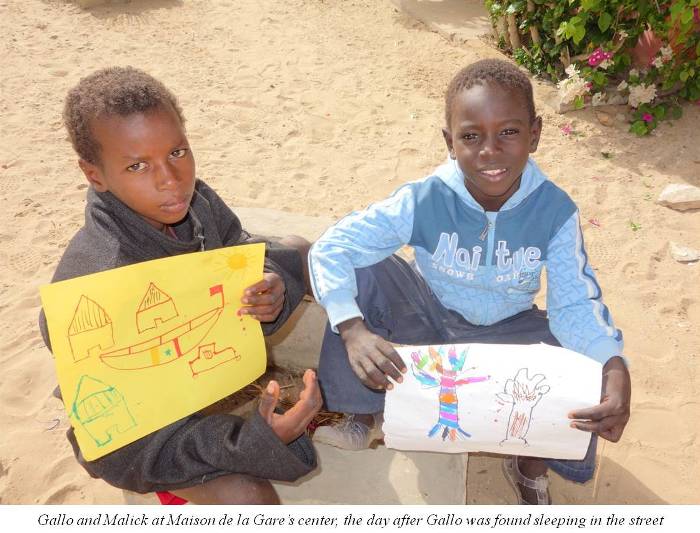 Three talibé children who ran from their daaras - A report by Canadian lawyer and former volunteer Lisa LeRoy
Night rounds, and rescue - By day the neighbourhood of Langue de Barbarie, across the bridge from the island of Saint Louis, is bustling with activity. The streets are filled with merchants, fishermen and their families, livestock,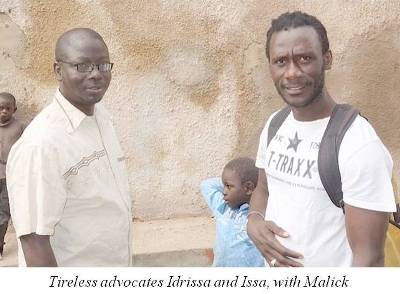 cars and horse-drawn carts and carriages. But by night, the streets of Langue de Barbarie are quiet and dark. Only a few lights remain on in the houses densely packed along the roadsides. It was into this silence at 1:00 a.m. in the morning that I went with Issa Kouyaté, the President of Maison de la Gare, and his close associate Idrissa Diallo of Univers de l'enfant on a night round in the search for runaway talibé children.

Issa estimates that, on any given night, there are a hundred runaway talibé children sleeping on the streets of Saint Louis. The reasons that the boys run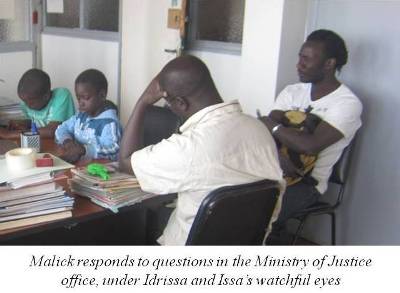 away are numerous and complex. It could be that they had not managed to meet their daily begging quota and were afraid of the repercussions from their marabouts (Quranic teachers), or that they were running from physical abuse in their daara.

On this particular night (and, sadly, on most nights) runaways were not difficult to find. Early on our night walk, Issa and Idrissa found two boys huddled and sleeping in a small enclosure under a tarpaulin on the side of one of the streets.

The boys, 7 or 8 years old, wouldn't move. Issa gently pulled the first boy, Gallo, out of the enclosure. Gallo was very surprised to be woken up in the night, but said very little. The second boy, Rasoul, screamed loudly when Issa tried to retrieve him (I learned later that he was afraid of being returned to his daara). Within seconds the street came alive with about twenty neighbours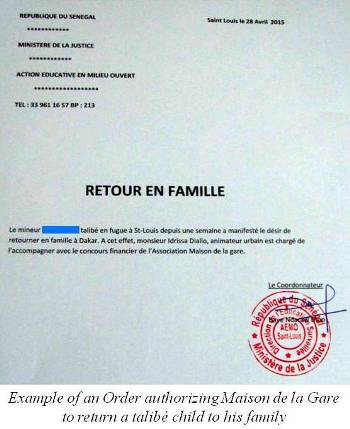 surrounding the scene, yelling and demanding to know what Issa and Idrissa were up to. For myself as an observer not speaking much Wolof, it was a very tense scene. I can only imagine how frightening the whole incident must have been to the two boys.

Issa and Idrissa explained what they were doing, and the crowd eventually dispersed and returned to their homes. Issa and Idrissa reassured Gallo and Rasoul that they were not going to return them to their daaras and that they would bring them somewhere safe to sleep and eat. Barefoot and in silent obedience, the boys walked back to Issa's apartment through the again deserted streets.

Rasoul, Gallo and Malick - Arriving at Issa's apartment, Rasoul and Gallo each chose a mattress and went immediately to sleep. There was another young boy there named Malick who was already asleep. Malick, approximately 6 years old, had been sleeping on the street for a week when someone brought him to Maison de la Gare. The marabouts are required to contact the Ministry of Justice as soon as a child goes missing. However, this is rarely done by marabouts who are aware they are mistreating the children and want to avoid investigation.

The next morning Rasoul, Gallo and Malick received new clothes at Maison de la Gare's center and then were brought to the AEMO office (Educational Action in Open Environments) of the Ministry of Justice to be registered and to begin inquiries into their cases.

Rasoul, we learned, came from Fouta in northern Senegal. His parents were contacted after his daara had been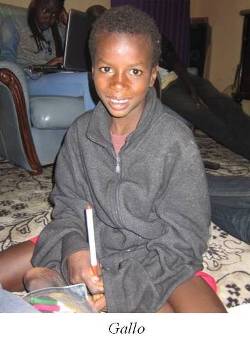 identified and the reason he ran away had been established. Rasoul's father arrived the next day to take him home. His father appeared to be shocked to learn of the treatment that Rasoul had been subjected to in his daara.

Gallo was very quiet and we almost never saw him smile or express any emotion. He seemed terribly serious and we could only guess what had led him to run from his daara. Despite multiple attempts, he wouldn't open up to anyone.

Malick in contrast had a spark in his eyes and frequently smiled with great enthusiasm. Although he seemed happy, he had fresh wounds on his back from being beaten. Malick took us to see where his daara was, but stayed hidden in a corner store with Issa while Idrissa went to investigate. Malick was forthcoming with his story and explained that it was the junior marabout, 16 or 17 years old, who had been beating him.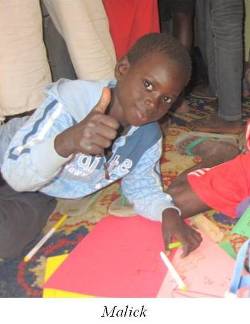 Malick did not want to return to live in his daara.

When Malick's junior marabout was summoned to the Ministry of Justice for a formal investigation, we were shocked to learn that he was Malick's biological brother. This junior marabout was adamant that Malick should return to his daara and that their family not be contacted.

Malick had come to Saint Louis from the Gambia and, when the investigation was completed, his parents were contacted. As Malick's desire to return home was clear, the Ministry of Justice prepared a decision ordering his return. In such cases, Idrissa, Issa or a Maison de la Gare staff member will accompany the child to his home or the parents will come to get the child in Saint Louis.

Gallo's time with Maison de la Gare did not have such a happy ending. Two days after we had found him in Langue de Barbarie, Gallo ran away from Maison de la Gare's center. Issa and Idrissa went searching for him the following nights, particularly near the bus station where many talibés run to get transport to Dakar. Gallo has not been found, and we never learned what he was running from.

Hope for the runaways - In Maison de la Gare's centre, it is easy to quickly forget the tough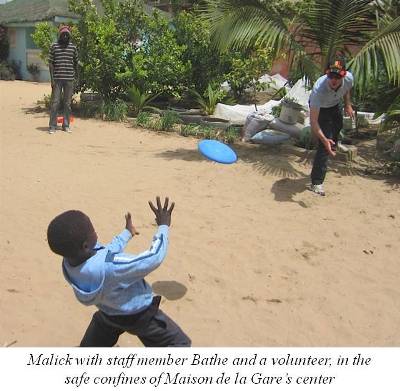 realities faced by the talibé children and to get lost in the moment when enjoying a game or a laugh. For these boys, the center is a place of hope where they are able to seek refuge, be cared for and know that they are not alone.

However, the challenges of the talibés' lives are enormous, and even more so for runaways. Earlier this year, Human Rights Watch documented the continuing abuses. While the work to address the issues of talibé boys begging can seem insurmountable, the efforts and commitment of Maison de la Gare and many other national and international organizations are inspiring. We invite committed volunteers to join us in this effort.


For a powerful video about Maison de la Gare's work on behalf of the runaway talibés, please click this link.