News from Maison de la Gare
The Invaluable Contributions of International Partners
Tweeter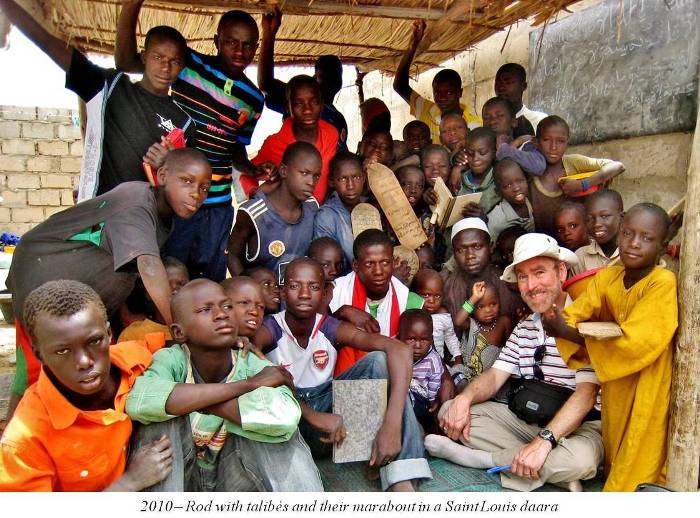 Maison de la Gare's development has been a team effort. A group of dedicated Senegalese, inspired and led by Issa Kouyaté, has received support over the years from committed international partners who have made crucial contributions. Issa asked Bintou Niang, a communication intern from Saint Louis' Gaston Berger University, to interview one of these partners, and he added his own words.
____________

Rod LeRoy met Issa Kouyaté on a trip to Senegal in 2008, where he was visiting his youngest daughter, Lisa, who was teaching French in the old railway station as a volunteer. Issa headed an organization dedicated to improving the lives of vulnerable children. As the head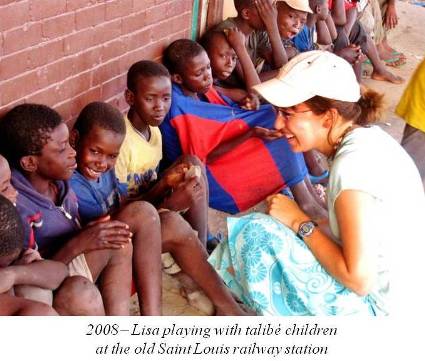 of a charitable foundation in Canada, Rod quickly joined forces with Issa and his team of ten young Senegalese who were working to help talibé children find a way out of their ordeal.

With the loss of the station a few months later, it was urgent to find a new site for welcoming the talibés, a site that would become the Maison de la Gare of today. Issa and Rod committed themselves to finding a way forward. Thanks to his experience, and partners in Canada and elsewhere, Rod managed to secure funding to make it possible to meet the challenges that Issa and his team were facing. Thus, Maison de la Gare's welcome center was launched as a haven where vulnerable children could be safe and have opportunities to improve their lives. This center now has classrooms, a computer room, a library, an infirmary, an emergency shelter and, more recently, an agricultural apprenticeship program which has been launched in nearby Bango.

Rod spoke to us about his vision for the organization, with his most heartfelt goal being to reduce the number of begging children. Rod echoed Issa's vision of informing and educating parents about the dangers their children face on the streets when they are entrusted to distant marabouts. Rod deplores that these Koranic teachers do not provide food for the children and that they do not hesitate to beat them. These marabouts demand that the children pay them a daily quota of money.

Concerning Maison de la Gare itself, Rod believes that great progress has been made and that staff members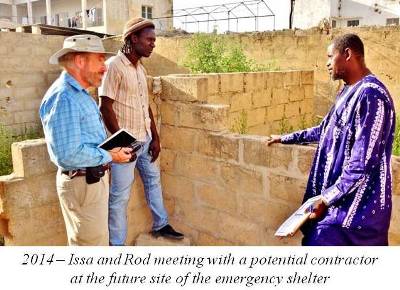 are sincerely committed to the organization's vision. The children served by the center are benefiting very much from the education and support that they receive.

Rod shared several anecdotes about what he has learned from Maison de la Gare, in particular about Arouna Kandé, whose situation has touched him deeply. Arouna was entrusted to a marabout at a young age and was savagely beaten. Arouna still has no identity papers, but Issa managed to enroll him in formal schooling where, in spite of many obstacles, he has succeeded very well.

Rod also spoke about Senegalese president Macky Sall's recent decision to order an end to organized child begging. Rod feels this is a decision to be encouraged and supported. It is important that the state accept responsibility for this situation. There are enormous numbers of talibés at risk in Senegal. We recently carried out a census in Saint Louis and counted more than 14,700 begging talibé children.

Issa adds his reflections: "I met Rod through his daughter, Lisa, who was volunteering in a local preschool.

What I would like to say about Rod could not be covered in a single book. It would take volumes and volumes to adequately describe this person with his natural talents enriched by his
life experience. I was really lucky to meet him just when I was ready to return to my hometown, Dakar, to start my life again there. Just to say that, in life, nothing happens by chance.

People say that life is divided into three parts: work, leisure and sleep. I can assure you, however, that Rod has only two lives: work and work. Understand what I'm saying. We had a discussion about this "risky" project, as he said. As I explained to him my vision of establishing a welcome center for the talibé children, he was already writing down my ideas in a notebook. From this, Maison de la Gare has become an oasis for all of the children who feel menaced by society.

Beyond this, Maison de la Gare has become an international focal point, and we owe it to this man whose appeal I have trouble expressing. We have worked together since 2008 on concrete projects to make it possible for vulnerable children to have healthy and stable lives. We have been able to stabilize the lives of thousands of children from disadvantaged families,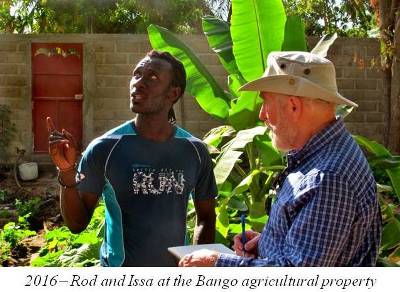 to combat child begging and exploitation, to return children to their families in the most remote regions, and to integrate young people into professional occupations so that they can become independent.

There are so many other projects I've put together with Rod, but the most important thing I've learned from him is to never get discouraged. I have sacrificed much of my life for the cause of abused talibé children, and Rod has really understood what has been driving me. We cannot thank him enough for all he and his family have done. At the very least we can share his thoughts and generosity with the rest of the world. I know that a day will come, and that day will be ours, when all children will be fully considered as children. A day when parents will accept responsibility for their own children, and when justice will convince society of the danger of exploiting children. A day when society will demand that authorities enforce the laws.

I say Thank You to Rod, to his family and to all the communities that have so generously helped Maison de la Gare to become the effective force that it is in supporting talibé children at risk."