News from Maison de la Gare
Soccer - a Magical Outlet for the Talibé Children of Maison de la Gare
Tweeter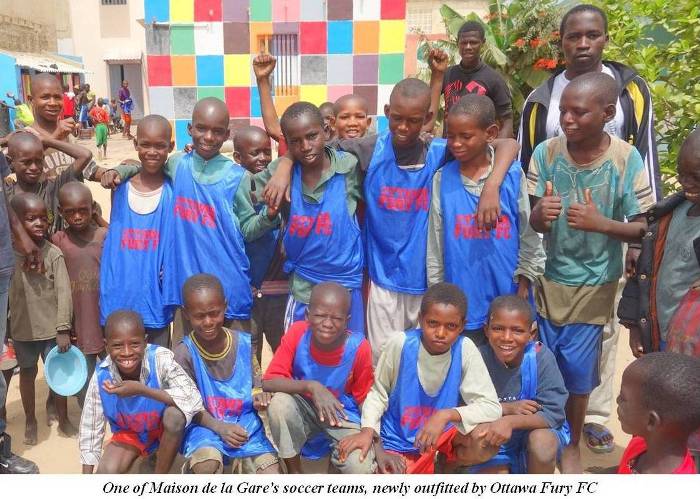 A motivating gift to the talibés from Ottawa Fury FC
The Ottawa Fury FC soccer team of Ottawa, Canada recently advanced to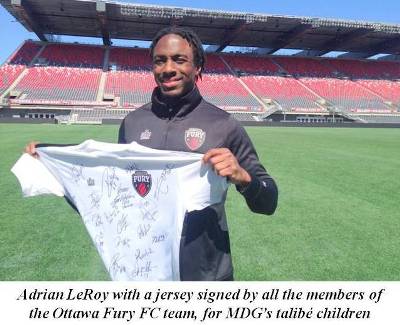 the North American Soccer League (NASL). To celebrate they updated their logo and, as a result, had to find a home for much of their older uniforms and equipment. When team members learned about the talibé children's passionate love of soccer from their equipment manager and former player Adrian LeRoy, they decided to donate all of their surplus equipment to these children. In April 2015, bags loaded with over 125 kilos of jerseys, team vests, goalie gloves and deflated soccer balls were delivered to Saint Louis, Senegal. This is a report of the first outing of some of this equipment.


Maison de la Gare's sports animator Kalidou, who is himself a talibé, organizes soccer tournaments one or two mornings a week. This is a highlight for the talibé children who spend much of their lives begging on the street and have very little space in their lives to simply be children. They adore soccer, and forget everything else while they are playing.

Thursday mornings, the children know that there is a good chance of a soccer match, and they drift into Maison de la Gare's welcoming center between 9 and about 10:30 in the morning. On this occasion Kalidou organized the teams and, with the help of staff members Abdou, Bathe and Noël,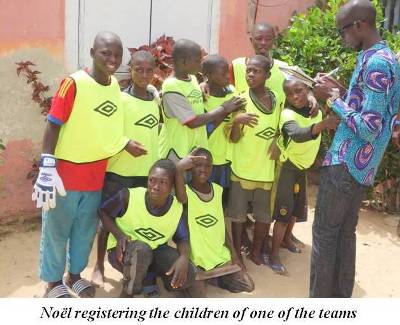 distributed coloured vests to the different team members. The children were thrilled with this linkage to a professional soccer team, and very proud to be dressed in team colours. The designated goalies were very happy with their professional goalie gloves, and displayed these proudly.

Over 100 children left the center at around 10:30 a.m. parading through the streets to a nearby sandy lot, many of them still carrying their begging bowls. Once there, Kalidou and Abdou organized the younger children into four teams, each with 11 players and four to ten replacements.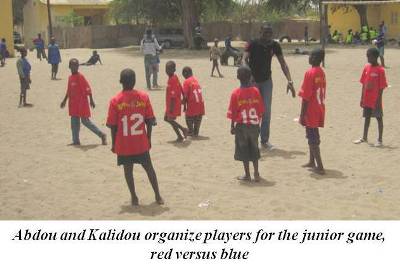 Two teams, red and blue, were in the junior category, with the boys typically between 4 and 8 years old. Few of the boys know their age or birthday exactly, so these groupings always involve a bit of guesswork. The boys 9 to 12 years old were organized into green and blue teams. Older boys age 13 and above played in the full-size pitch at the other end of the lot.

The play is marvelous to see. In bare feet, the children commit themselves totally to the game, playing with energy and skill that you would expect of much older youth. There are many exciting and even passionate moments but, under Kalidou's watchful eye, the rules of the game are pretty well respected. In the junior category, it was a clear win for blue over red, with a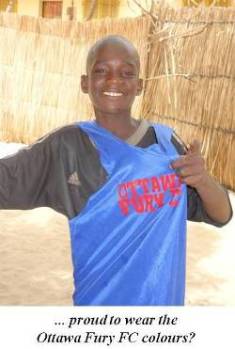 score of 1 to 0. In the intermediate category, however, regular time ended in a tie, and the winner was settled in a best of five shoot-out. The result was a blue victory over yellow, 4 to 3.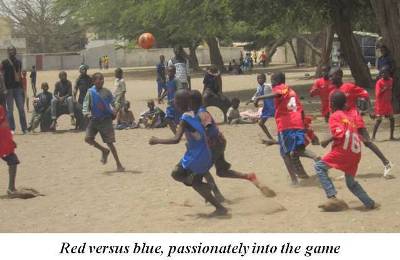 The reality of these boys' cruel lives is indicated by the prizes. The winning team in each of the junior and intermediate categories receives a prize of 10,000 CFA francs to distribute
among the 20 or so team members. To put this in perspective, these boys are typically required to pay their marabout 500 francs each a day (about $1), money that they must obtain by begging. When they play soccer, they have to take several hours from begging and the resulting shortfall can earn them severe beatings. The incentive allows many of them to have a slight respite from begging, helping to open more and more of them to some of the possibilities of a normal childhood.

Thank you to Ottawa Fury FC for your contribution, and to everyone whose support makes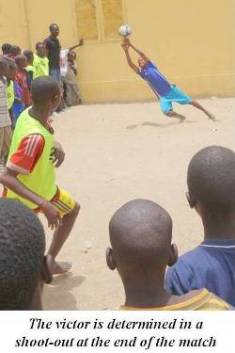 possible Maison de la Gare's programs for these children.